Latest Conferences
2023
SCI-Arc Events. Enric Ruiz-Geli: What is it? What is it to be 'indigenous'?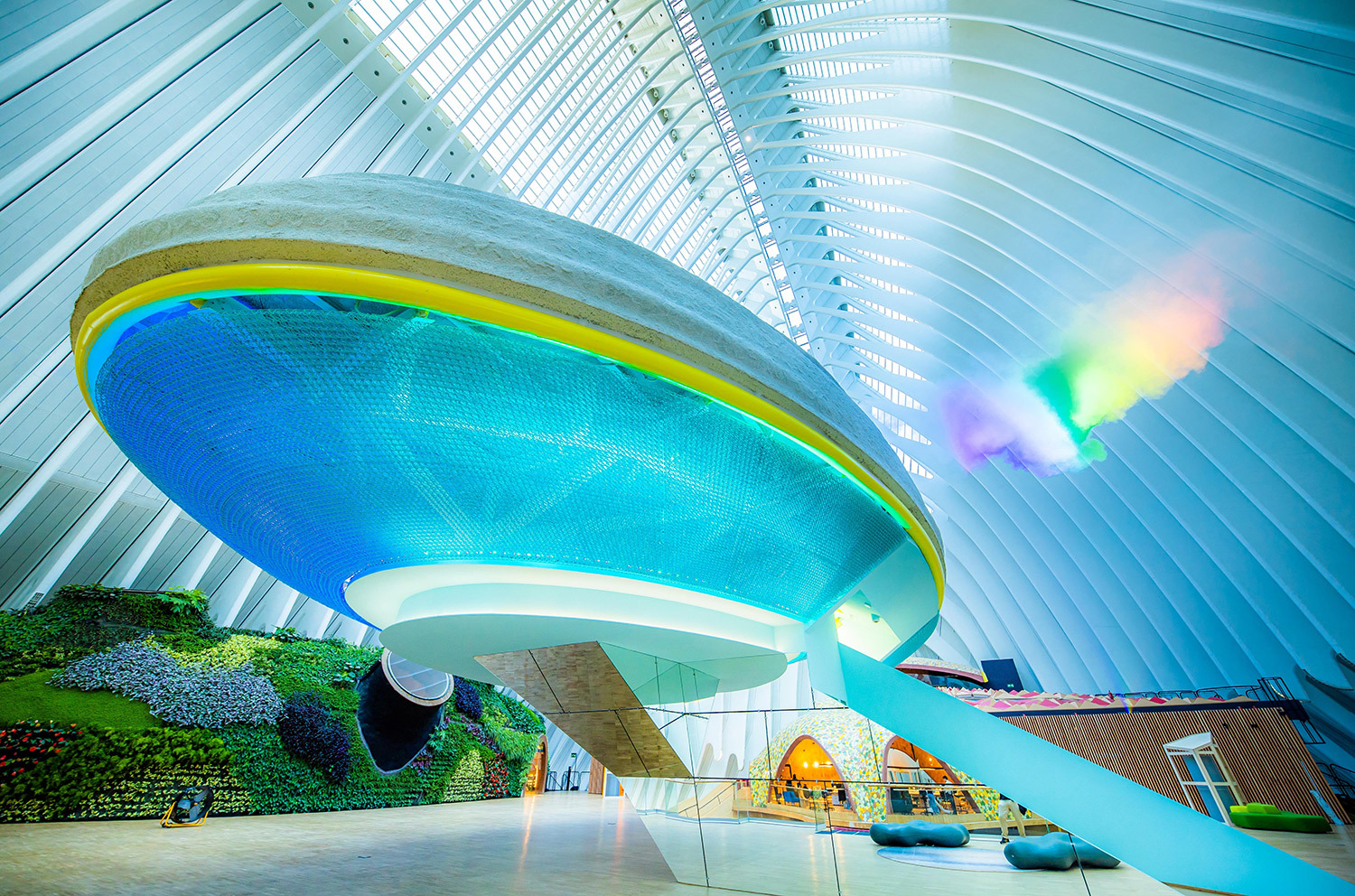 Cada semestre, SCI-Arc acoje oradores de todo el mundo de una amplia gama de disciplinas para interactuar directamente con sus estudiantes y comunidad.
Leer más
2018
Symposium SENcity, Ecole Nationale Supérieure d'Architecture, Montpellier
InnoChain 2nd Year Colloquium & Lectures, Research Exhibition Opening. IaaC. Barcelona, February 12th to 14th 2018 //
2017
Enric Ruiz-Geli Lecture - Virginia Tech College of Architecture and Urban Studies. December 7th, 2017.
"Media-ICT", El PAÍS con tu futuro, Madrid
"No Blue No Green", CAUS, College of Architecture and Urban Studies, Virginia Tech
"It's all about Particles" The Watermill Center, New York
"It's all about Particles" Estonian Academy of Arts Faculty of Architecture, Tallinn
"Sustainable Buildings", Sedigas, Palacio de los Duques de Pastrana, Madrid
2016
"It's all about Particles", UCLA, Architecture and Urban Design, Los Angeles
"It's all about Particles", University of Westminster, London
"It's all about Particles", Royal Melbourne Institute of Technology (RMIT), Melbourne
"Media-ICT", Urban Next, Barcelona
Conversation at "The Greg Lynn Show" hosted by Greg Lynn, CCA, Montreal
"It's all about Particles", 5@8 Mosaic, HEC, Montréal
"It's all about Particles", workshop "La Nuite", Universities of Fribourg, Geneva and Bern, Joint Master of Architecture, Fribourg
2015
"It's all about Particles", Taliesin West, Arizona
"It's all about Particles", Raumwelten - Platform for Scenography, Architecture and Media, Stuttgart
"Recent Projects" at Beyond Building Barcelona, Construmat, Barcelona
"Recent Projects"at Deià School of Art and Design, Barcelona
2014
"Recent Projects"at COAG, Granada
"ElBulliFoundation"at IV International Biennale of Sustainable Architecture, Habitat Futura, La Pedrera, Barcelona
"EEE towards E: Environmental Energy Experiences towards Empathy" at Audi E-Tron HUB, Barcelona
"Enric Ruiz Geli introduces Jeremy Rifkin" at AMPO Headquarters, Idiazábal
"It's all about Particles" at EKODesign event, Istanbul, Turkey
"elBulliFoundation" at TEDxESADE event, ESADE, Barcelona
"elBulliFoundation" at Auditori de Teulada Moraira, Moraira, Alicante
"It's all about Particles" at Massachusetts Institute of Technology, Cambridge, USA
"Media-ICT" at Barcelona City Hall, Barcelona
"Enric Ruiz Geli introduces David Mocarski" at IAAC (Institute of Advanced Architecture of Catalonia), Barcelona
Enric Ruiz Geli introduces Jeremy Rifkin at AMPO Headquarters, Idiazábal
It's all about Particles at EKODesign event, Istanbul, Turkey
elBulliFoundation at Auditori de Teulada Moraira, Moraira, Alicante
elBulli Challenge at Massachusetts Institute of Technology (MIT), Cambridge, USA
It's all about Particles at Autodesk Headquarters, San Francisco, USA
Media-ICT at Barcelona City Hall, Barcelona
Enric Ruiz Geli introduces David Mocarski at IAAC (Institute for Advanced Architecture of Catalonia), Barcelona
2013
IAAC Institute for Advanced Architecture of Catalonia
MASTER IN ADVANCED ARCHITECTURE LECTURES 2012-2013
Enric Ruiz Geli – 'It's all about Particles'
It's all about Particles at Design Computation Symposium, Autodesk University, Las Vegas, USA
It's all about Particles at Architects' Journal Footprint Sustainability Forum, London, United Kingdom
Recent Projects at Inspiring Day, Forum Aging by TECNALIA, Barcelona
It's all about Particles at Prishtina Architecture Week, Prishtina, Kosovo
It's all about Particles at Building Dynamics Symposium (University of Calgary), Banff, Canada
It's all about Particles at IAAC (Institute for Advanced Architecture of Catalonia), Barcelona
elBulliFoundation at IESE (Telefónica), Madrid, Spain
Architecture and time from the photography at CCCB, Barcelona, Spain
It's all about Particles at St. Petersburg Architectural, St. Petersburg, Russia
De l'Evolution à L'innovation at Hotel W, Barcelona, Spain
It's all about Particles at Facoltà di Architettura di Genova, Genova, Italia
It's all about Particles at Greenwich University, London, United Kingdom
It's all about Particles at IIID (Institute of Indian Interior Designers), Bangalore, India
It's all about Particles at IFAWPCA (International Federation of Asian & Western Pacific Contractors Association), Kochi, India
2012
It's all about Particles, Universität Innsbruck, Innsbruck, Austria
It's all about Particles, Ceramic Cathedra València, València, Spain
It's all about Particles, Maison de l'Architecture du Centre, Orléans, France
It's all about Particles, ADDTHOUGHT, Aalto University, Helsinki, Finland
Round table Zumtobel Group Awards, Berlin, Germany
It's all about Particles, I Mediterranean Congress on Energy Efficiency and Smart Green Cities, Tarragona, Spain
It's all about Particles, L'Empordà, Landscape as Economic Asset, Figueres, Spain
Round table HP Experts at WAF (World Architectural Festival), Singapore
It's all about Particles, Keynote at WAF (World Architectural Festival), Singapore
Media-ICT, CREDAI' 12th NATCON to RICS (Royal Institution of Chartered Surveyors), Barcelona, Spain
It's all about Particles, Congress of Russian Cities Construction, Ulyanovsk, Russia
It's all about Particles, Bahrain University, Bahrain
It's all about Particles, at IAAC (Institute for Advanced Architecture of Catalonia), Barcelona, Spain
It's all about Particles, Central House of Architects, Saint Petersburg
It's all about Particles, Arch-Moscow, Central House of Artists, Moscow
It's all about Particles, Akademie der Künste, Berlin, Germany
It's all about Particles, Art Center College of Design, Pasadena, Los Angeles
It's all about Particles, The Buckminster Fuller Institute, New York
It's all about Particles, SmartGeometry, Albany, New York
It's all about Particles, College of Architecture, Virginia University
Bull Session Arquinfad with Ferran Adria, MACBA, Barcelona
2011
It's all about Particles ¨C College of Architecture, Kuwait University y SSH, Kuwait
Media-ICT- Sustainable & Tech building in 22@ , Congr¨¦s Smart City, Fira, Barcelona
It's all about Particles Shih Chien Architecture University, Taipei
Media-ICT,- Art Futura Buenos Aires
Media-ICT- Universidad La Plata, La Plata
Landscape and Sustainability, , Tribuna Girona / Fundación La Caixa Girona
Media-ICT, Awarded Works at Spanish Architecture Biennale, Madrid
Media-ICT, WAF (World Architectural Festival), Barcelona
Energy Environment Experience towards Emphaty, Universidad de Tubigen, Tubigen
Energies, what forces will change the cities of the future? Symposium Audi Future Summit, Frankfurt
Media-ICT Symposium, Croacia
Media-ICT, PINC.12, Holland
Energy Environment Experience towards Emphaty, Galería Gloria, Madrid
EEE Towards E - Environmental Energy Experiences towards Emphaty, École Spéciale d'Architecture, Paris
conference
Fabricate, The Bartlett School of Architecture, London
Smart Grid Seminar, Barcelona Digital Global Congress, Barcelona
Media-ICTBarcelona School of Architecture, ETSAB UPC, The Coollective, Barcelona

Barcelona School of Architecture, ETSAB UPC, The Coollective, Barcelona

elBulliFoundation, Madrid Fusión, Madrid
Media-ICT, Architectural Association School of Architecture, London
2010
Digital Crafting, Symposia, CITA, Copenhagen
The optimization of material and energy saving. Media-ICT, Seminar on Architecture and Industry, Architecture and Sustainability Foundation, Madrid
A Green New Deal, Symposium of Architecture and Urbanism, SENAC University, Sao Paulo
Bartlett International Lecture Series 2010, The Bartlett School of Architecture, University College, London
Media-ICT, Lecture Series QUT Design, University of Technology, Brisbane, Australia
Innovation in architectural spaces, Kubik by TECNALIA, Bilbao
The Media-ICT Building, I3Con, Madrid
Spain Now, KTH Royal Institute of Technology, Stockholm
Architectural Encounters, Buenos Aires, Rosario
Día C. CdC Fair of Creativity, Fabra i Coats, Barcelona
The ICT at the architectural world towards the energy efficiency, Bdigital, ESADE, Barcelona
Villa Nurbs (From Geopolitics to Biosphere Politics), Palais de Chaillot Auditórium, Paris
A Green New Deal (From Geopolitics to Biosphere Politics), Cite d'Architecture Palais de Chaillot Auditórium, Paris
2009
A Green New Deal, Cristina Enea Foundation, San Sebastian
A Green New Deal, Arts Santa Monica, Barcelona
Energy Sustainability, Workshop with Jeremy Rifkin, Principality of Monaco
CPS Sustainability Design, Workshop with Jeremy Rifkin, City of San Antonio
"Catalan Architecture 2004-2009 Roundtable", Catalan Architecture 2004-2009, Portrait d' époque, Palais de Chaillot, Paris
A Green New Deal, ArtFutura 2009, From the Virtual Reality to the Social Networks, Barcelona
"A Green New Deal ", IE School of Architecture, Aula Magna, Segovia
Public/Domestic Space at Festival of Architecture Eme3 Collapse, New Scenarios, Barcelona
The Sustainable City, at Series of Debates The Art of Survival, La Caixa, Barcelona
Performing Particles: Science and Fiction, Lecture Series Design, Innovation and Company, IED, Madrid
Science and Fiction at 10º International Congress of Architecture and Design Arquine, Teatro Metropolitan, Mexico DF
Enric Ruiz-Geli: A Green New Deal... Cloud 9 at "Fuzzy Boundaries", UCLA, Department of Architecture and Urban Design, Perloff Hall, Los Angeles
TIR (Third Industrial Revolution), at "Energetic City", Urbania Conference, 4º Festival Internazionale di Urbanistica, Bologna
2008
Media-ICT at Mater, Center of Materials, FAD, Barcelona
The positive virus should be expanded. Parameterized accidents at Creative Cities Days, Sitges Design Center, Barcelona
Science and Fiction at "Coup de Dés", Mies van der Rohe Pavillion, Barcelona
Blubloblab, with Artist Pep Bou at Teatro Piccolo, Venice Biennale
Science and Fiction, The Watermill Center's Summer Lecture Series, Byrd Hoffman Watermill Foundation, NY
Performing Particles, Singel Auditorium, Amberes
Performing Universe at Architecture for Music, for Centennial of Palau de la Musica Catalana, International Synopsium, Barcelona
Energy Attack, III Assembly of Cities of the Spanish Network towards Climate, Miramar Palace, San Sebastian
Science and Fiction: From Parametric to Natural Performance, at AIA New York
Performing Particles, at the Architectural Association School of Architecture, London
2007
Villa Nurbs, ETSA Sevilla, Dragados Prizes, Sevilla
Performing Particles, Opening conference at School of Architecture of Alicante, Alicante
Villa Nurbs, Video conference, Granada Festival, Granada
Performing Particles, Opening conference at the international meeting "The New Boundaries of Science, Art and Thinking - Out of Balance". KRTU, Palau de la Música, Barcelona
Performing Particles, Kogakuin University, for "New Trends of Architecture" Symposium, Tokyo
2006
Villa Nurbs, Princeton University
Henry Moore i ENRG, at CaixaForum, Barcelona
New Trends in Architecture, Europe and Asia, Patras
PechaKucha Night Exhibition, Tokyo
Villa Nurbs: the positive virus at 12+12=3 Debates on Architectural Bearings in Spain, Columbia University, colloquium at Miller Theatre, New York
Archi J at International University Menéndez Pelayo, Barcelona
Particles of Light, lecture and round table with Jurgen Mayer at Architektur. Import/Export, ADG-FAD, Barcelona
2005
Villa Nurbs: digital making, at Projects Workshop by Juan Herreros, ETSAM, Madrid
Parameters and accidents: the added value is an emergency of the complexity, . . Accidents to Beauty, Accidents to Beauty, Workshop at the Ministry of Housing, directed by Iñaki Ábalos, Seminar Beauty, Madrid
Lecture by Enric Ruiz Geli, Columbia University School of Architecture, New York
Recent Projects, Exhibition Esqueletos, at COAC, Barcelona
2004
Parametric Accidents, COAC, Figueres
Parameters and accidents: the added value is an emergency of the complexity, Official Colleague of Architects in Extremadura, Badajoz, Spain
Landscape of Events performance at European Media Art Festival, Media House, Osnabruck
Landscape of Events, at Summer Course Strange Types in the Landscape at the Architects' Association of Almeria, Spain
The Relational City at MARQ (Museum of Architecture), in Buenos Aires, Argentina
Landscape of Events at Catalan Architecture Vol. 2 at COAC, Barcelona
The Relational City at XIV Panamerican Bienniale of Architecture of Quito, Ecuador
2003
Parametric Design Villa Nurbs, at IAAC, (Institute for Advanced Architecture of Catalonia), Barcelona
Cidade 10 at the Kunst Hauss, for the Biennale of Media & Architecture in Grasz, Kunsthaus
2000
Recent projects at the Hochschule Der Künste, Berlin
A Green New Deal, editorial ACTAR
Media-ICT, editorial ACTAR